Maureen's Hope Foundation and Beads of Courage have partnered to offer you Carry A Bead kits to allow greater outreach for both patients and supporters. This program gives everyone an opportunity to actively get involved in the mission of Maureen's Hope and Beads of Courage through the Carry A Bead Program.
There are many levels of participation in the Carry A Bead Program and no act is too small or too great.
Purchase a Carry a Bead Kit for $20 (shipping and handling included)
We have special opportunities available for teams (collegiate, professional, high school, youth). Please contact Susan Bertrand at maureenshope@yahoo.com for more information.
Dick's Sporting Goods Family Fit Series
May 21, 2016- October 8, 2016
The Family Fit Running Series is a collection of fun but competitive family oriented running/walking events (occurring from spring to fall) encouraging better health, memorable family times and individual achievement. All events are timed events with overall and age group winners. All participants receive the usual race swag i.e. race shirt, bib and/or finisher medals.
---
Paige's Butterfly Run
James M Hanley Federal Building
June 4th, 2016
5K @ 9:00 AM and 3K@ 10 :00 AM
Please consider joining us for the next Paige's Butterfly Run, either as a participant or as an individual or corporate sponsor. Help us make a difference in the lives of children in Central New York. Paige's butterfly Run wants you to post your personal best 5k with us on our flat and friendly course. Less interested in your official time and just want to have a good time? Join us for our 3k walk / run.
---
Earth Day Half Marathon & 5K
April 17th, 2016
Event has passed but we'll be back next year.
The Earth Day Half Marathon & 5K is a fun way to bring awareness to Earth Day while assisting various programs that help feed the youth in CNY. 1/2 Marathon is on mostly country roads that are a combination of long flat roads and moderate rolling hills. The 5K course will lead you past the Beaver Lake with country roads are flat with one moderately challenging uphill just before you enter the home stretch.
---
Montezuma Half Marathon & 5K
Montezuma Audubon Center
June 26, 2016
8:15
The Friends of the Montezuma Wetlands Complex support habitat restoration & public use at The Montezuma Wetlands Complex in upstate New York. This 3,500-acre island lies inside the Montezuma Wetlands Complex which includes the Montezuma National Wildlife Refuge.
---
Old Forge Half Marathon & 5K
George T. Hiltebrant Recreation Center
September10th, 2016
8:30
There is a Half Marathon & 5K race that will take place. Both races will take place on established bike trails that loop between the northeast portions of Old Forge, just north of the Water Safari, and Big Moose Lake. The trail course is mostly gravel and dirt roads.
---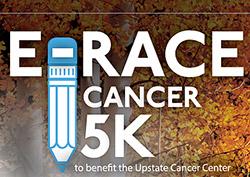 E-Race Cancer Half Marathon & 5K
Abbott Farms
October 16th, 2016
8:30am
The goal of this race is to help people with cancer thrive and promote wellness while caring for those with disease and illness! After the race there will be a Festival that will include a Farmers' Market, pumpkin and apple picking, food vendors, pony rides and bounce houses for the kids.
---
Hope for Heather Teal Ribbon Run
Lewis Park,
South Main St. Minoa,
NY 13116
September 25, 2016
10:00 AM
The Teal Ribbon Run is an annual event and the largest ovarian cancer fundraising event in Central New York. The event consists of a 5K Certified Run, 3K Family Fun Walk and a Teal Dash for Kids 12 and under. Stay and enjoy the after race family party at Lewis Park.