Comedy for a Cause – Because, I believe
A serendipitous moment. Coincidence or Not?
I was feeling like I had a full plate, but when the owner of the Mohegan Manor asked me a few weeks ago if I would like to collaborate on a Comedy for a Cause fundraiser for Maureen's Hope, with a stand out comedian Steve Van Zandt, of course I said yes. We set the dates for March 25th and 26th.
We had not spoken to anyone about the event yet, and the next morning I received the following email:
"Dear Susan,
I was directed to this Maureen's Hope site by my son's Syracuse pediatric oncologist, Dr.Dvorak.
My son Alex was diagnosed with non-Hodgkins lymphoma in October 2014 when he was 18 years old and just started college. Today he started the 14 month, lower dose chemo maintenance phase.
This has been a college of life experience for Alex and has helped him prioritize his hopes and wishes in life.
He has always had an interest in comedy writing and stand up comedy. He had aged out of the Make-A-Wish program because he was 18 years old when he was diagnosed.
Any help, direction or contacts you can provide would be appreciated.
Sincerely,
Alex's Mom, Lorena Klaus"
Me: (Now insert face with open mouth emoji). Prior to the previous day, I had no contacts with any comedians (except my two brothers) and had never been a part of a comedy fundraiser.
I emailed Lorena back with a few questions and also mentioned that, coincidentally, the day before we had planned a Comedy for a Cause fundraiser. Hmm. Perhaps Alex could somehow get involved. An outlet and diversion for him that coincides with his passion.
Lorena's response:
"Susan,
I just got home from my son's spinal chemo at the hospital.
When Alex was in HS, he did a few stand up shows at the Cortland Youth Bureau before his friend's band would play.
The show sounds interesting. I mentioned it to him on our ride home from Syracuse. I'll talk to him more when he is more awake.
It is a coincidence that I touched base with you after you were sent info about this comedian. It was an emotional roller coaster ride for me today and while Alex was getting his spinal chemo I mediated quietly, asking for guidance and strength. It was during this mediation that Dr.Dvorak told me about your organization. Coincidence?
There was nothing I could do about the other stressors in my life but a door was opened to guide me with something positive to help Alex.
Thank you Susan for your info and for responding so quickly. smile emoticon
~ Lorena"
Fast Forward. Alex Klaes of Cortland, NY is the opening act for our Comedy for a Cause event on March 25th and 26th at the Mohegan Manor in Baldwinsville. Lorena Scanlin-Klaes and I decided to share the unfolding of our exchange with you, because it is too "serendipitous" not to share.
Me: I Believe.
TWO NIGHTS! March 25 and March 26
***TICKETS:  $20 (includes 5 raffle tickets)***
Enjoy a night of comedy with Steve Van Zandt!
Opening Act, beginning at 8:30 PM will be 19 year old Alex Klaes of Cortland, NY.
Where: Mohegan Manor – 58 Oswego Street, Baldwinsville, NY 13027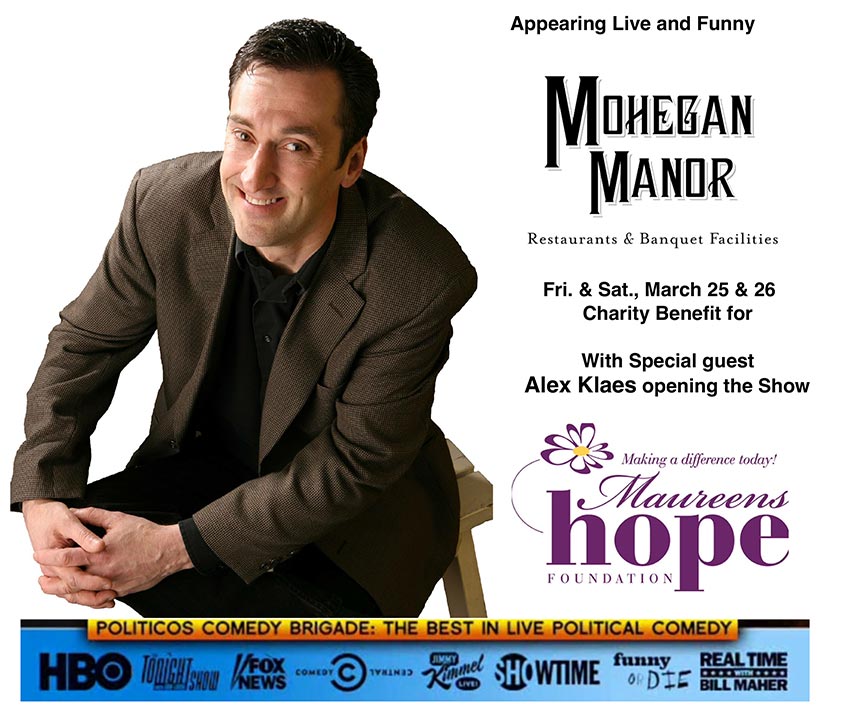 –